Written by By Jamie Geller Monday, 10 January 2011 16:30
Written by administrator Friday, 20 August 2010 12:23
Last Updated on Thursday, 19 August 2010 18:30 Written by administrator Thursday, 19 August 2010 18:11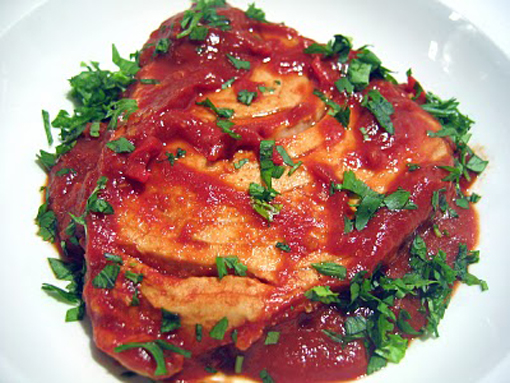 Chraime is a delicious popular Moroccan and North-African fish and vegetable casserole. Chraime is often eaten as an appetizer course . I think it must be served with hot challah!
Ingredients

oves - peeled and smashed
1 small

jalapeño

or other hot chili pepper, quartered and seeded
1¼ - 1½ pounds of white fish fillets (

pick by your taste - cod, sole

,

halibut

)
1 tablespoon sweet

paprika

3

tomatoes

- coarsely chopped
1 cup chopped fresh

cilantro

(or

parsley)

1 cup

water

⅓ cup

olive oil

coarse salt, to taste
Directions
1.In a large flame-proof casserole dish or dutch oven, set the potato slices on the bottom. Scatter the bell peppers, garlic, and jalapeño pepper on the potatoes. Sprinkle with salt.
2. Place the fish on top and sprinkle it with paprika and salt. Add the tomatoes and cilantro or parsley.
3.Pour the water in at the edges. Sprinkle the top with oil and sprinkle generously with salt.
4.Set the pan over high heat, cover, and bring the mixture to a boil. Reduce the heat slightly and simmer for 25-30 minutes or until the vegetables are tender and the fish is cooked through. Check the pan after 20 minutes; if there seems to be too much liquid, uncover the pan for the remaining cooking time.
5. Serve hot with challah!
Written by administrator Thursday, 19 August 2010 17:21

Ingredients
1 cup (1/4-inch-thick) slices carrot
2 pounds sweet potato, peeled and cut into 2-inch wedges
3 tablespoons vegetable oil
1/2 cup dried apricots, cut into 1/4-inch strips
1/2 cup packed brown sugar
1/4 cup golden raisins
1/4 teaspoon salt
1/4 teaspoon freshly ground black pepper
1/2 cup ginger ale
1/4 cup cranberry juice cocktail
2 tablespoons fresh orange juice
Directions
1. Preheat oven to 350°.
2. Place carrot and potato in a 13 x 9-inch baking dish. Drizzle with oil, and toss well.
3. Sprinkle apricots, sugar, raisins, salt, and pepper over potato mixture; toss to combine.
4. Combine ginger ale and juices; drizzle over potato mixture.
5. Bake, covered, at 350° for 1 hour and 15 minutes or until potato is tender, stirring once after 45 minutes.
6. Uncover; bake an additional 15 minutes or until liquid is slightly thick.
Last Updated on Wednesday, 04 August 2010 21:12 Written by administrator Wednesday, 21 July 2010 14:23
Ingredients:
* 2 cups coarsely chopped fresh pineapple
* 1/2 cup chopped red sweet pepper
* 1/4 cup finely chopped red onion
* 3 tablespoon lime juice
* 1 tablespoon snipped fresh cilantro or chives
* 1 tablespoon honey
* 1 small fresh jalapeno pepper, seeded and finely chopped
* 1 1-pound fresh skinless salmon fillet, 1 inch thick
* 1/4 teaspoon ground cumin


Event Calendar
Recent Events & Simchas
Legislator Howard Kopel Lauds Achievement of 93-year-old Law Student
Add Comments
8031
Assemblyman Goldfeder & Achiezer to host Outreach Event with DEP in Far Rockaway
Add Comments
7847
Nichum Aveilim
written on 14 August 2012, 07.34
Baruch Dayan Haemes - Mr. Zev Wolfson a"h
Add Comments
120062
written on 30 June 2012, 23.00
Baruch Dayan Haemes - Helena Hauptman a"h
Add Comments
121358
Latest Hashovas Aveida
FOUND: Shopping bag from Five Towns Judaica with religious articles. Call 516-492-9297.
Add Comments
142922